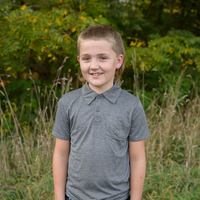 Our entire family offer our prayers, and pray God wraps his loving arms around Wesley's family as they deal with the loss of this beautiful boy.
Wesley Joel Confer, 10, passed away unexpectedly with his family at his side, at the UW Madison Hospital on Sunday, May 1, 2022.Wesley was born on April 25, 2012, to Matthew and Abbey (Baylor) Confer in Freeport, IL. He was currently in 4th grade at Le-Win Elementary School. Wesley was a big brother with a big heart! He was always eager to help. He loved to play X-Box with his friends, watch You-Tube, drive his Rzr, anything farming, running the skid loader, riding in the semi's and caring for his dog Emma and cat Stuart. Wesley loved strawberries, tomatoes and anything sour! He loved swimming, going to the Wisconsin Dells, and was looking forward to traveling to Florida this summer.
Wesley is survived by his parents; Matt and Abbey of Winslow, sister Willow and brother Weldon, grandparents; Lynn (Dave) Zies of Oregon, IL Scott (Ruth) Confer of McConnell, great grandmothers; Kathleen Reed and Marilyn Confer. Aunts and uncle; Jen Confer, Kim Confer and Matt (Teresa) Baylor and many cousins.
He was preceded in death by his grandfather; Joel Baylor, great grandparents; Jack Confer, Paul (Ruth) Schwartz, Nancy Meyers, and Clifford Reed, cousin; Harper Folgate.
Family would like to thank the individuals and first responders that assisted on scene, as well as all medical personnel who cared for Wesley at FHN and UW Madison Children's Hospital.
Funeral Services will be held on Saturday, May 7, 2022 at 11:00 a.m. at Martintown Community Church. If you are unable to attend, the service will be livestreamed on the Martintown Community Church's Facebook page. There will also be a livestream option from the parking lot for overflow or those who prefer to join the services from their vehicle.
Visitation will be held on Friday May 6, 2022 from 4:00pm to 8:00pm at the Leamon Funeral Home in Lena, IL.
Kevin Cernek will officiate the service.
Burial will be at Lena Burial Park in Lena, IL.
A memorial has been established in his name